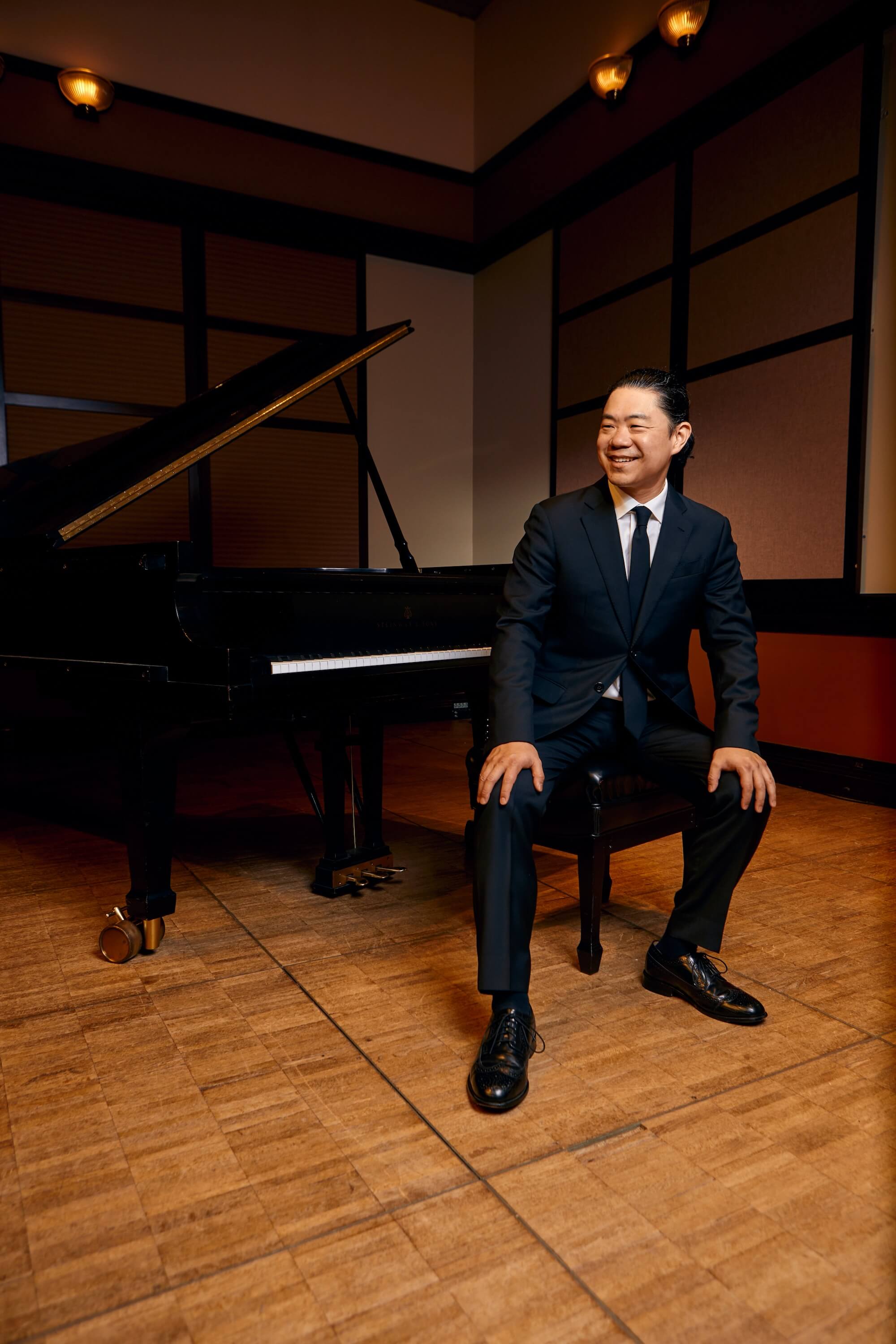 Pianist Jonathan Lee has thrilled audiences throughout the United States in venues including Symphony Hall in Boston, Bass Hall in Fort Worth, Abravanel Hall in Salt Lake City, Benaroya Hall in Seattle, and Shalin Liu Performance Center in Rockport, Massachusetts, and has performed as soloist with the Fort Worth Symphony, Boston Pops Orchestra, and Utah Symphony.
A prizewinner of several competitions, Mr. Lee captured first prize at the Cliburn International Amateur Piano Competition, first prize at the the San Diego International Piano Competition, first, audience, and best Liszt prizes at the Washington International Piano Artists Competition, second, audience, and best Baroque prizes at the Boston International Piano Competition, and gold medal, audience, and teacher prizes at the Seattle International Piano Competition.
Mr. Lee has also performed and participated in festivals such as Amalfi Coast Piano Festival, PianoTexas, St. Lawrence String Quartet Chamber Music Seminar, and the Wassermann Festival. He has worked with esteemed pedagogues Jerome Lowenthal, Leon Fleisher, Boris Slutsky, and Russell Sherman. Currently he studies privately with Professor Yoshikazu Nagai, chair of the piano department at the San Francisco Conservatory of Music, and visiting professor of piano at Peabody Conservatory.
In recent years, Mr. Lee has developed an interest in chamber music and formed the Alden Trio in 2013, performing throughout the Bay Area in concert series including Berkeley Hillside Club, Neighborhood Performance Project, and Berkeley Arts Festival.
In addition to his music interests, Mr. Lee pursued a Master's degree in computer science at the Massachusetts Institute of Technology, and currently enjoys a career in software. A new job took him from Cambridge to San Francisco where his passion for music was rekindled by the weekly Classical Revolution chamber jams in San Francisco's Mission district.
Combining his interests in music and technology, Jon wrote MusicPodium, an app for iPad, to make piano score reading more portable. He continues to explore projects to advocate and share his enthusiasm for classical music.
Curriculum Vitae
A condensed CV is available online and as a PDF document. Please inquire by email for a complete version.
Repertoire
Solo
Baroque
Johann Sebastian Bach, French Suite no. 5 in G major, BWV 816
Johann Sebastian Bach, Partita no. 1 in B♭ major, BWV 825
George Frideric Handel, Keyboard Suite no. 2 in F major, HWV 427
Domenico Scarlatti, Sonatas, K. 9, 435
Classical
Ludwig van Beethoven, Sonata no. 11 in B♭ major, op. 22
Ludwig van Beethoven, Sonata no. 14 in c♯ minor, op. 27 no. 2 "Moonlight"
Ludwig van Beethoven, Sonata no. 23 in f minor, op. 57 "Appassionata"
Ludwig van Beethoven, Sonata no. 30 in E major, op. 109
Ludwig van Beethoven, Sonata no. 31 in A♭ major, op. 110
Joseph Haydn, Sonata no. 13 in G major, Hob. XVI:6
Wolfgang Amadeus Mozart, Sonata no. 12 in F major, K. 332
Romantic
Johann Sebastian Bach/Sergei Rachmaninov, Violin Partita no. 3 in E major for piano
Johannes Brahms, Ballades, op. 10
Frédéric Chopin, Etudes, op. 10 and op. 25
Frédéric Chopin, Nocturne in F♯ major, op. 15 no. 2
Frédéric Chopin, Mazurka in a minor, op. 17 no. 4
Frédéric Chopin, Preludes, op. 28
Frédéric Chopin, Scherzo no. 2 in b♭ minor, op. 31
Frédéric Chopin, Fantaisie in f minor, op. 49
Frédéric Chopin, Ballade no. 4 in f minor, op. 52
Frédéric Chopin, Berceuse in D♭ major, op. 57
Frédéric Chopin, Sonata no. 3 in b minor, op. 58
Frédéric Chopin, Barcarolle in F♯ major, op. 60
Franz Liszt, Mephisto Waltz no. 1, S. 514
Francis Poulenc, 3 Novelettes, FP 47/173
Franz Schubert/Franz Liszt, Gretchen am Spinnrade
Franz Schubert, Impromptus, op. 142
Robert Schumann, Toccata, op. 7
Robert Schumann, Fantasiestücke, op. 12, Des Abends, Grillen, Fabel
Robert Schumann, Kinderszenen, op. 15
Alexander Scriabin, Preludes, op. 16
Alexander Scriabin, Sonata no. 2 in g♯ minor, op. 19 "Sonata-Fantaisie"
Impressionist
Claude Debussy, Deux Arabesques
Claude Debussy, Suite Bergamasque
Claude Debussy, Rêverie
Claude Debussy, Estampes, Jardins sous la pluie
Claude Debussy, Images I, Reflets dans l'eau
Maurice Ravel, Pavane pour une infante défunte
Maurice Ravel, Sonatine
Maurice Ravel, Le Tombeau de Couperin
Twentieth Century
Samuel Barber, Sonata in e♭ minor, op. 26
Béla Bartók, Suite, op. 14
Sergei Prokofiev, Sonata no. 7 in B♭ major, op. 83
Igor Stravinsky, Trois mouvements de Petrouchka, Chez Petrouchka
Igor Stravinsky/Guido Agosti, L'oiseau de feu
Concerto
Ludwig van Beethoven, Piano Concerto no. 4 in G major, op. 58
Ludwig van Beethoven, Piano Concerto no. 5 in E♭ major, op. 73 "Emperor"
Frédéric Chopin, Piano Concerto no. 2 in f minor, op. 21
George Gershwin, Rhapsody in Blue
Sergei Prokofiev, Piano Concerto no. 3 in C major, op. 26
Maurice Ravel, Piano Concerto in G major, M. 83
Pyotr Ilyich Tchaikovsky, Piano Concerto no. 1 in B♭ major, op. 23
Collaborative
Sonatas
Ludwig van Beethoven, Cello Sonata no. 3 in A major, op. 69
Ludwig van Beethoven, Violin Sonata no. 4 in a minor, op. 23
Johannes Brahms, Cello Sonata no. 1 in e minor, op. 38
Johannes Brahms, Cello Sonata no. 2 in F major, op. 99
Johannes Brahms, Clarinet Sonata no. 1 in f minor, op. 120 no. 1
Johannes Brahms, Clarinet Sonata no. 2 in E♭ major, op. 120 no. 2
Johannes Brahms, Violin Sonata no. 1 in G major, op. 78
Johannes Brahms, Violin Sonata no. 3 in d minor, op. 108
César Franck, Sonata in A major
Paul Hindemith, Viola Sonata no. 1 in F major, op. 11 no. 4
Maurice Ravel, Violin Sonata no. 1, M. 12 "Sonate posthume"
Duos
Johannes Brahms, Piano Concerto no. 1 for piano four-hands, op. 15
Nikolai Kapustin, Nearly Waltz for cello and piano
Chamber
Classical
Ludwig van Beethoven, Clarinet Trio, op. 11 "Gassenhauer"
Ludwig van Beethoven, Piano Trio no. 1 in E♭ major, op. 1 no. 1
Ludwig van Beethoven, Piano Trio no. 7 in B♭ major, op. 97 "Archduke"
Joseph Haydn, Piano Trio in C major, Hob. XV:27
Wolfgang Amadeus Mozart, Piano Quartet in g minor, K. 478
Wolfgang Amadeus Mozart, Piano Quartet in E♭ major, K. 493
Romantic
Johannes Brahms, Clarinet Trio, op. 114
Johannes Brahms, Piano Quartet no. 2 in A major, op. 26
Johannes Brahms, Piano Quartet no. 3 in c minor, op. 60
Johannes Brahms, Piano Trio no. 2 in C major, op. 87
Gabriel Fauré, Piano Quartet no. 1 in c minor, op. 15
Felix Mendelssohn, Piano Trio no. 1 in d minor, op. 49
Felix Mendelssohn, Piano Trio no. 2 in c minor, op. 66
Francis Poulenc, Sextet, FP 100
Franz Schubert, Piano Trio no. 1 in B♭ major, op. 99, D 898
Robert Schumann, Piano Trio no. 1 in d minor, op. 63
Robert Schumann, Piano Quartet in E♭ major, op. 47
Robert Schumann, Piano Quintet in E♭ major, op. 44
Impressionist
Claude Debussy, Piano Trio, L. 5
Maurice Ravel, Piano Trio
Twentieth Century
Frank Bridge, Phantasie Piano Quartet in f♯ minor, H. 94
Samuel Coleridge-Taylor, Five Negro Melodies for piano trio, op. 59 no. 1
Chick Corea, Addendum
Ernő Dohnányi, Sextet, op. 37
Philip Glass, Head-On
Pierre Jalbert, Piano Trio no. 1
Arvo Pärt, Mozart-Adagio
Astor Piazzolla, Four Seasons of Buenos Aires for piano trio
Dmitri Shostakovich, Piano Trio no. 2 in e minor, op. 67
Joaquín Turina, Círculo, op. 91
Sample Programs
Solo
Half program
(33m)
Handel, Keyboard Suite no. 2 in F major, HWV 427

(8m)

Adagio
Allegro
Adagio
Allegro

Schumann, Toccata, op. 7

(7m)

Schubert/Liszt, Gretchen am Spinnrade

(4m)

Chopin, Etude in F major, op. 10 no. 8

(3m)

Scriabin, Sonata no. 2 in g♯ minor, op. 19 "Sonata-Fantaisie"

(11m)
Half program
(29m)
Scarlatti, Sonata in D major K. 9

(4m)

Scarlatti, Sonata in d minor K. 435

(4m)

Schubert, Impromptu in B♭ major, op. 142 no. 3

(10m)

Chopin, Scherzo no. 2 in b♭ minor, op. 31

(11m)
Full program
(65m)
Handel, Keyboard Suite no. 2 in F major, HWV 427

(8m)

Adagio
Allegro
Adagio
Allegro

Beethoven, Sonata no. 30 in E major, op. 109

(18m)

Vivace, ma non troppo
Prestissimo
Gesangvoll, mit innigster Empfindung. Andante molto cantabile ed espressivo

Chopin, Etude in E major, op. 10 no. 3

(4m)

Chopin, Etude in F major, op. 10 no. 8

(3m)

Chopin, Mazurka in a minor, op. 17 no. 4

(4m)

Chopin, Etude in c minor, op. 10 no. 12

(3m)

Bach/Rachmaninov, Violin Partita no. 3 in E major for piano

(8m)

Schubert/Liszt, Gretchen am Spinnrade

(4m)

Scriabin, Prelude in B major, op. 16 no. 1

(2m)

Scriabin, Sonata no. 2 in g♯ minor, op. 19 "Sonata-Fantaisie"

(11m)
Full program
(75m)
Bach, Partita no. 1 in B♭ major, BWV 825

(17m)

Praeludium
Allemande
Corrente
Sarabande
Menuet I
Menuet II
Giga

Beethoven, Sonata no. 11 in B♭ major, op. 22

(24m)

Allegro con brio
Adagio con molta espressione
Minuetto
Rondo. Allegretto

Scriabin, Prelude in B major, op. 16 no. 1

(2m)

Liszt, Mephisto Waltz no. 1, S. 514

(12m)

Prokofiev, Sonata no. 7 in B♭ major, op. 83

(20m)

Allegro inquieto
Andante caloroso
Precipitato
Collaborative
Full program
(57m)
Beethoven, Violin Sonata no. 4 in a minor, op. 23

(22m)

Ravel, Violin Sonata no. 1, M. 12 "Sonate posthume"

(13m)

Brahms, Violin Sonata no. 3 in d minor, op. 108

(22m)
Chamber
Full program
(55m)
Debussy, Piano Trio

(22m)

Pärt, Mozart-Adagio

(7m)

Mendelssohn, Piano Trio no. 2 in c minor, op. 66

(26m)
Full program
(47m)
Corea, Addendum

(5m)

Jalbert, Piano Trio no. 1

(15m)

Ravel, Piano Trio

(27m)
Full program
(48m)


"A trio sampler"
Haydn, Allegro (first movement) from Trio in C major, Hob. XV:27

(8m)

Coleridge-Taylor, Selections from Five Negro Melodies for piano trio, op. 59 no. 1

(8m)

Sometimes I Feel Like a Motherless Child
I Was Way Down A-Yonder

Beethoven, Menuetto: Quasi Allegro (third movement) from Trio in C minor, op. 1 no. 3

(4m)

Glass, Head-On

(5m)

Brahms, Andante con moto (second movement) from Trio in C major, op. 87

(8m)

Pärt, Mozart-Adagio

(7m)

Schumann, Mit Feuer (fourth movement) from Trio in D major, op. 63

(8m)
Full program
(87m)
Mozart, Piano Quartet no. 1 in g minor, K. 478

(26m)

Allegro
Andante
Rondo. Allegro

Fauré, Piano Quartet no. 1 in c minor, op. 15

(33m)

Allegro molto moderato
Scherzo. Allegro vivo
Adagio
Allegro molto

Schumann, Piano Quartet in E-flat major, op. 47

(28m)

Sostenuto assai — Allegro ma non troppo
Scherzo. Molto vivace
Andante cantabile
Finale. Vivace