Programming considerations
23 Sep 2017
I submitted a list of pieces that I had performed or competed with since high school. We went through the list by period and considered ways to fill in gaps.
After talking about this, there was less than 15 minutes to go through music. We were able to through my questions about pedaling in the Ravel Trio, and sprinted through notes regarding the theme of the Schumann Symphonic Études, op. 13.
Repertoire considerations
Baroque
Bach
Scarlatti
Put together a suite of 2, 3, or 5 sonatas
Think of it like a sonata form in terms of tempi, key relationships, and style
Many are Spanish in nature, and rather than reading all of them, look at the time signatures. Look for the sonatas that translate well for the piano. Styles that mimic the guitar, or sound like a rapid exercise. Could open with a march.
When it comes to getting editions, look at the Dover, Kalmus, Schirmer edited by Kirkpatrick, and Hashimoto.
Recordings to consider: Sergei Babayan. Alexis Wiessenberg. Ivo Pogorelich. Horowitz. And more recently, Murray Perahia.
Classical
Haydn
Get the Weiner edition
Hob. XVI:6 in G major
Hob. XVI:20 in c minor
Hob. XVI:31 in E major
Hob. XVI:32 in b minor
Hob. XVI:34 in e minor
Hob. XVI:46 in A♭ major
Hob. XVI:50 in C major
Hob. XVI:52 in E♭ major
Mozart
K. 279 in C major
K. 283 in G major
K. 310 in A minor
K. 332 in F major
Beethoven
op. 2 no. 3 in C major
op. 22 in B♭ major
op. 31 no. 3 in E♭ major "The Hunt"
op. 57 in f minor "Appassionata"
Romantic
Chopin
I apparently need more Chopin in my life
Pairings

Third ballade and the second scherzo
Fourth ballade and the first scherzo

Fourth scherzo is the hardest. Not yet.
Liszt
Mephisto Waltz
Anneés de pèlerinage

Dante sonata
Petrarch sonnets
Tarantella
Jeux d'eau

Second ballade
Impressionist/20th Century
Prokofiev
Sonata no. 7
Other big sonata is no. 4
International edition is fine
Exercises to bring next time
Scales
Four scales: C major, c minor, G major, g minor
For the final pattern, which is sextuplets, you have to cycle 3 times in order for it to land on a beat.
What are the things to look for when doing these scales? Efficiency in execution. Not much moving around. Loose, not pressing into the keyboard. Freedom of arm movement. No raising of fingers too high. Finally, musical shapes.
Brahms
Perform exercise #17 in G, A♭, A, B♭.

Perform exercise #20 in C, C♯; quarter= 120. Chromatic all the way through. The pattern is in triplets 161616 161616 , but play them in patterns as if they were grouped in four 16161616 .
Ravel Piano Trio
An expert on Ravel from San Jose (San Jose University?) did a tour(?) with Ravel's piano. One aspect of his piano is that the bass is relatively light in volume and notes decay quickly. The additional repeating of the bass note may be trying to compensate for the decay.
Mushy textures come about when trying to keep the sustained bass note audible. Some ways to keep the pedaling clean:
Play the bass light in the first place so that it mimics the decay
Use the sostenuto pedal
Perform half pedals to keep the note around until the next opportunity to switch
Perform the upper chords over the bass note very quietly so that they can also decay quickly
Schumann op. 13, theme
Played through the theme. Notes were provided in overtime.
In the opening, prioritize the legato in the bass. Pedaling should not break up the bass line.

To help, the right-hand rolls should probably start with the bass. The legatissimo for the melody implies a 1–2 1–2 transition in the thumb (and voice that thumb) because there's no way to make the 5 finger in each chord physically legato.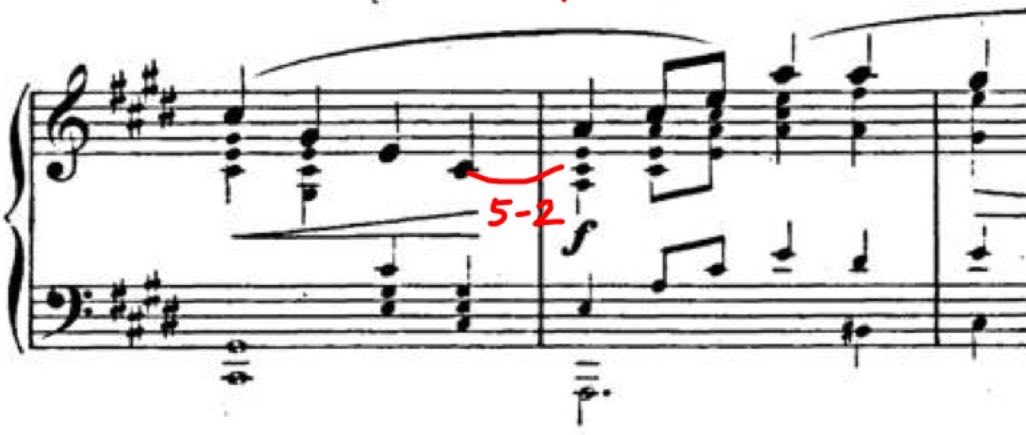 More prominent voicing in the melody. Wider dynamic range, when in crescendo to forte ("trumpets" in the ascending A major chords).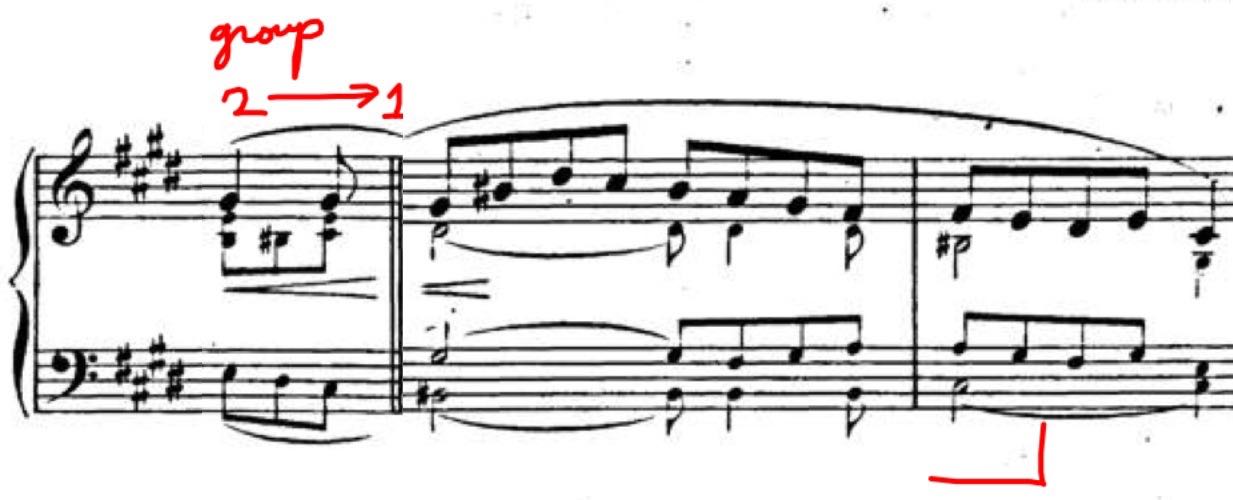 Going into the second section, the eighths should be groups 2–3–4–1 to keep the movement.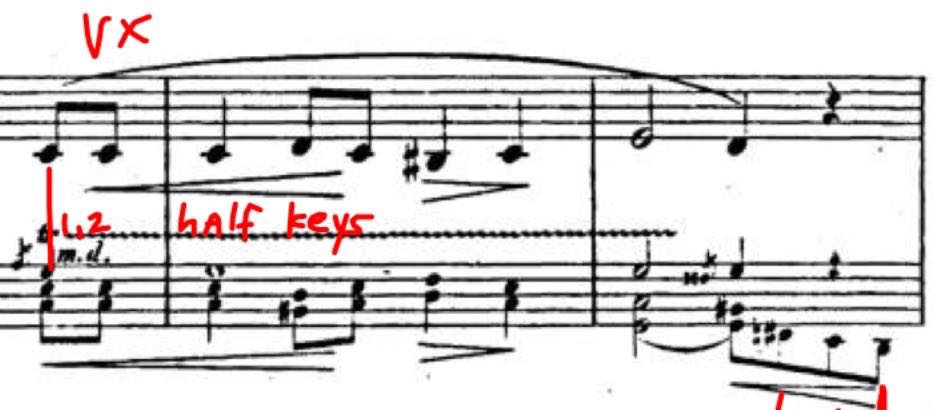 The inner trill begins before the beat (the first chord lands with G♯). Trill as 1–2 G♯–A, not 2–1. Keys never reach the top in the trill (half-key trill).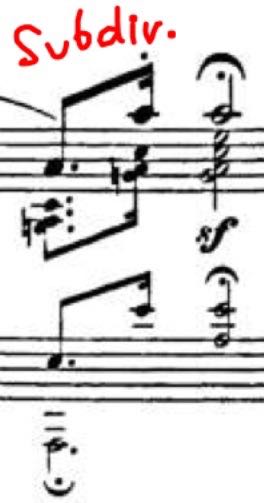 Fermata in the penultimate chord is preceded by dotted 8 16 . Make sure to subdivide the sixteenth (don't turn it into dotted dotted 8 32 ).